DASH to a healthy you in 2017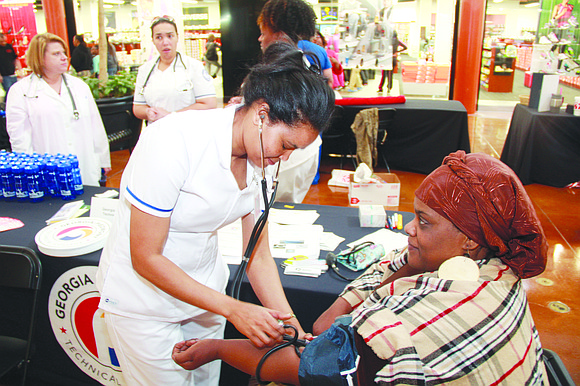 High blood pressure, also know as hypertension, is a common and dangerous condition, which disproportionately affect African Americans for a range of hereditary, cultural and lifestyle reasons.
National data suggest that about 33 percent of US adults have hypertension and another 31 percent are pre-hypertension, meaning that without intervention and life style changes, they too will have high blood pressure.
Among African-Americans, more than 40 percent of men and women are afflicted with hypertension, and high blood pressure also develops earlier in life and is usually more severe.
The risk factors of hypertension include increased age, excessive weight, a family history of high blood pressure, having diabetes, inactivity, a diet high in salt and fat, low intake of potassium and smoking. African Americans rank high on those risk factors.
High blood pressure, which has no warning signs or symptoms, is often called the silent killer because many people do not know they have it.

The only to know if you have it, is to is to measure your blood pressure.
A high reading – 140/90 mmHg or more – means the pressure of the blood in your blood vessels is higher than it should be.
Blood pressure is the force of blood pushing against the walls of your arteries, which carry blood from your heart to other parts of your body. It normally rises and falls throughout the day. But if it stays high for a long time, it makes your heart work too hard, hardens the walls of your arteries, and can cause your brain to hemorrhage, or your kidneys to function poorly, or not at all.
If not controlled, high blood pressure can lead to heart and kidney disease, stroke and blindness.
The National Heart, Lung, and Blood Institute says the DASH –Dietary Approaches to Stop Hypertension –
eating plan is the best way to prevent and control high blood pressure.
The heart healthy way to eat, developed in 2010, is rich in lower-calorie foods, such as fruits and vegetables, which easily support weight loss.
The institute recommends these steps to prevent or lower high blood pressure:
nFollow a healthy eating plan like DASH, which includes food that are lower in sodium
nMaintain a healthy weight
nBe active, even moderately, for at least two hours and 30 minutes per week
nAvoid alcoholic beverages, and if you must, imbibe in moderation
nIf you have high blood pressure, take your medication as prescribed by your doctor
The DASH eating plan requires no special foods and has no hard-to-follow recipes.
It is rich in fruits, vegetables, whole grains, fish, poultry, beans, seeds and nuts. It is lower in saturated fats, trans fat and cholesterol and rich in nutrients – potassium, magnesium, calcium, protein, and fiber – associated with lowering blood pressure.
It contains less sodium, sweets, added sugars, beverages containing sugar, fats, and red meats, which are all part of the typical American diet.
The DASH Eating plan simply calls for a certain number of daily servings from various food groups based on the number of the calories you are allowed each day.