Performers to teach, wow and entertain health and wellness expo audience
1/20/2017, 6 a.m.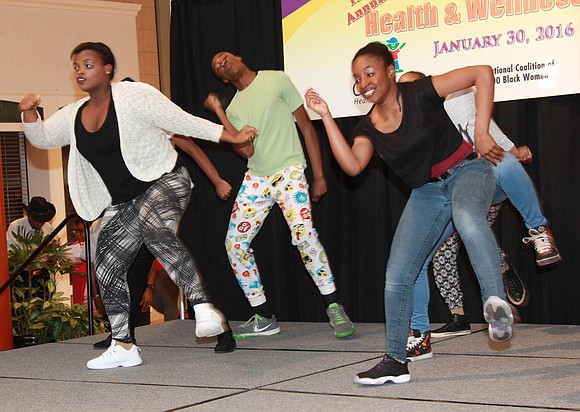 The 2017 Health & Wellness Expo stage will come alive with dances, miming, fitness and health food demonstrations, and lots more dancing.
Jennifer Parker, CrossRoadsNews editor and publisher, said there can't ever be too much dancing at a health and wellness expo.
"Dancing is all about movement," she said. "It is great exercise. It's easy on the joint and most of all, its fun."
The expo takes place noon to 5 p.m. on the lower level of the Mall at Stonecrest.
All performances and demonstration take place at the main stage, located near Sears.
Exercise motivator Rae Rae Clarke will kick off the health and wellness celebration at noon.
Door-to-Door Fitness Master Trainer Elfreda Smith and her crew will demonstrate some easy exercise routines at 12:45 p.m. and at 1:30 p.m., the Lou Walker Senior Center Tai Chi practitioners will showcase the ancient noncompetitive Chinese martial art known for both its defense techniques and stress-relieving health benefits.
Performers include expo favorite The Beulah Boys, Hip Hop Nanas, Lou Walker Dance Troupe, and ballroom dancer Ken Wilson and Diane Gilliard.
This year Decatur-based Grace Dance Group has joined the line up with its Detroit-style ballroom dancing. It will be on stage at 3:30 p.m.
Jaye Taylor, owner of the seven-year-old School of Grace, where the troupe is based, said their style of ballroom dancing is very different from what most think ballroom dancing should be.
"The audience will be wowed," she said.
Mime extraordinaire, Antonio "the Chozen 1" Hinton, will mesmerize the audience with his emotion performance at 1 p.m.
The award winning Conservatory of Dance will showcase modern dance at 3:15 p.m.
After their lively performance at 4 p.m., the Beulah Boys, who always bring the house down, will lure the audience on their feet to step with them.
The Mall at Stonecrest is at Turner Hill Road and I-20.
For more information, call 404-284-1888.