$42 million Avondale Estates mixed use development underway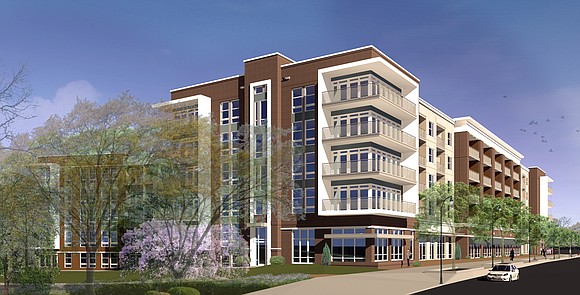 A five-story mixed-used apartment complex will soon be rising from the ground on East College Avenue in Avondale Estates.
The $42 million project, part of the city's 2014 Downtown Master Plan, will be built on 3.17 acres between Hillyer Street and Sams Crossing across the street from the Waffle House Museum.
It will have about 197 one and two-bedroom units in four stories above, and 8,000 square feet of restaurant and retail space on the ground floor. There will be more than one acre of open space, including a gateway park that will preserve the mature trees, a rear parking deck with additional on-street parking and generous sidewalks and street trees to enhance the pedestrian experience.
Developers South City Partners closed the deal early January.
An official ground-breaking ceremony is likely at the beginning of March once the site is cleared. Construction is expected to take about 18 months.
On Jan. 23 workers were digging up pavement encircling the property so a safety fence could go up.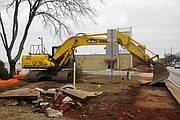 Tony Safranic, superintendent of McShane Construction Company, which is managing the project for South City Partners said Jan. 23 that contractors are preparing to demolish the site's three existing buildings including the Coyote's Mexican Grill which is relocating to the old Carpe Diem location in the Ice House Lofts at 105 Sycamore Place on the edge of downtown Decatur.
Safranic said the land will be cleared and leveled down to eight feet before pilings are driven in.
The project is near the city of Decatur's $120 million transit-oriented development, which broke ground on Nov. 28. That 7.7-acre project will house 378 apartments, 92 senior living units, and a plaza with 21,000 square feet of commercial space.
The area from Maple Street to Sams Crossing was annexed into the city in July 2012 as part of a wider plan to promote and implement redevelopment.
Avondale Estates leaders are excited about enhancing the city's western entrance and attracting more development in the central business district.
Mayor Jonathan Elmore said the mixed-use project will be a "handsome and welcoming edifice at our western gateway and an inspiring catalyst for our entire central business district."

"I am incredibly proud of the collaborative effort of our Downtown Development Authority, our city manager and staff, and the board in working with South City Partners to arrive at this point," he said.
South City Partners had been negotiating with longtime landowner Joe Gargiulo since May 2015.
Matt Delicata, chair of the Avondale Estates Downtown Development Authority, said the complex will be a great asset to the city.
"We know it will be a huge success and are excited to watch it serve as a catalyst for future development," he said.