Budget includes water fixes, street sweepers
Jennifer Ffrench Parker and Terry Shropshire | 3/3/2017, 6 a.m.
DECATUR — DeKalb's water woes and its long-standing litter problems are among the fixes that will be made by the county's 2017 budget, approved Feb, 28 by the DeKalb Board of Commissioner.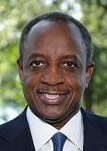 The $1.3 billion budget includes $1.5 million to overhaul the county's water billing system, and $24.9 million to launch Operation Clean Sweep that will clean 137.6 miles of county roads regularly. It includes the purchase of four street sweepers – the county's first ever – and a front loader dump truck, trailer and other equipment, and personnel and overtime costs
The BOC voted 5-2 to approve budget. Districts 1 and 2 Commissioners Nancy Jester and Jeff Rader opposed the budget.
The $1.5 million for water billing includes:
$350,000 for market and merit-based pay adjustments;
$325,000 for billing inserts, mailings and call-back functionality improvements;
$275,000 for an audit of the county's water billing system to be completed by the new Office of Internal Audit;

$250,000 for contract customer assurance and field technicians to verify the current inventory of installed water meters; and
$150,000 to pay for training of current and new staff.
DeKalb CEO Michael Thurmond said that in the next 90 days, his administration will tackle the vexing water billing issues that has plagued the county and water customers for the last two years.
"We will improve efficiencies in meter installation and data management billing," he said. "Greater emphasis and investments will be made in customer service training and employee retention."
Commissioners initially wanted to table the water bill issue for but Thurmond, convinced them the matter had to be handled with all deliberate speed.
"This problem didn't begin overnight and it won't be solved overnight," he said. "But for me and my staff, we have made this our No. 1 priority… We are proposing to do something in the short term that will have immediate impact on the services and customer services."
The Operation Clean Sweep initiative will be focused on litter removal, cutting grass in county rights-of-way, and removing debris storm drains that contribute to chronic flooding.
Its $24.9 million will include:
$6.4 million for purchases and contracts
$5.4 million for personal services
$4.4 million for supplies
$3.9 million for interfunds/interdepartment
Thurmond said he was surprised to learn that the county's storm drains had not been cleaned in five years.
"We stopped doing the curb bumping to save money," he said. "But unfortunately it has caused much greater damage at a greater cost and the creation of potholes that we could not fill."
Thurmond pointed out that when storm drains are clogged, water stands longer on the roadways.
"Standing water often seeps into crevices and asphalt," he said. "This destabilizes the soil underneath the pavement, eventually buckling the pavement and is the prime reason for the creation of potholes."
Operation Clean Sweep will target 41 county roads from Chamblee Tucker Road to Bouldercrest Road. Among them are 24 roads in South DeKalb including trash-strewn corridors like Panola, Wesley Chapel, Flakes Mill, Glenwood, Kensington, Panthersville, Clifton Springs, River, Snapfinger, South Hairston, Turner Hill, Redan, and South Deshon roads; Columbia and Hillandale Drive and DeKalb Medical Parkway In South DeKalb County.