Omega Psi Phi donates winter gloves, hats to Women's Resource Center
3/3/2017, 6 a.m.
Members of the Kappa Alpha Alpha Chapter of Omega Psi Phi Fraternity Inc. have delivered 50 hat, glove and scarf sets to the Women's Resource Center to End Domestic Violence in Decatur for use by its clients.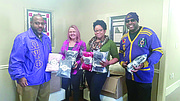 The winter wear items were donated in direct support of WRC's Safe House Program, which seeks to provide secure and confidential temporary housing for women and children.
The Jan. 31 donation is the second time the chapter has partnered with WRC. In keeping with the idea of "Protection of Womanhood," the chapter is looking to become increasingly involved in the effort to end domestic violence, beginning with DeKalb County.
The Women's Resource Center seeks to meet the immediate and long-term needs of the diverse community of battered women and their children with programs that promote safety, compassion, connection, advocacy, and prevention. Its 24/7 hotline is 404-688-9436. For more information, visit www.wrcdv.org.