DA Sherry Boston picks team to prosecute officer who killed Anthony Hill
3/8/2017, 9:44 p.m.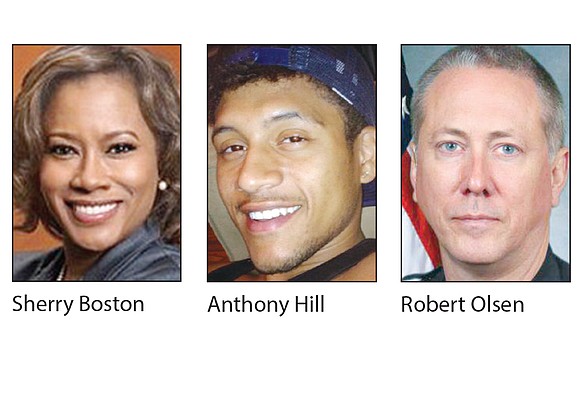 DeKalb District Attorney Sherry Boston will be pursuing the case against former DeKalb Police Officer Robert Olsen, who is accused in the death of Anthony Hill, a mentally ill Air Force veteran who was shot to death while naked and unarmed.
Boston said March 8 that she has assembled a new team of attorneys to prosecute the case against Olsen who was indicted on two counts each of Felony Murder and Violation of Oath by Public Officer, and Aggravated Assault, and Making a False Statement in connection with the Hill's death.
Olsen shot and killed Hill, 27, on March 9, 2015 when he answered a call about a naked man behaving erratically and running around his Heights at Chamblee apartments on Chamblee Tucker Road.
Olsen said he shot Hill because he felt threatened.
A DeKalb grand jury indicted Olsen in Jan. 21, 2016.
Boston said the prosecution team is comprised of skilled, veteran prosecutors including Chief Assistant District Attorney Pete Johnson, who will serve as lead prosecutor, Deputy Chief Assistant District Attorney Anna Cross, Deputy Chief Assistant District Attorney Lance Cross, and Senior Assistant District Attorney Buffy Thomas. She introduced the team to the victim's family during a case briefing this week, days before the second anniversary of Hill's death.
Olsen's case is currently on appeal in the Georgia Supreme Court.
Boston office said the case has been docketed and a ruling is pending following attorney briefs.
"The matter will be scheduled for pre-trial proceedings and, eventually, trial, upon return to the Superior Court of DeKalb County," she said in March 8 statement.