'America Walks DeKalb Walks' events promote physical activity
3/10/2017, 6 a.m.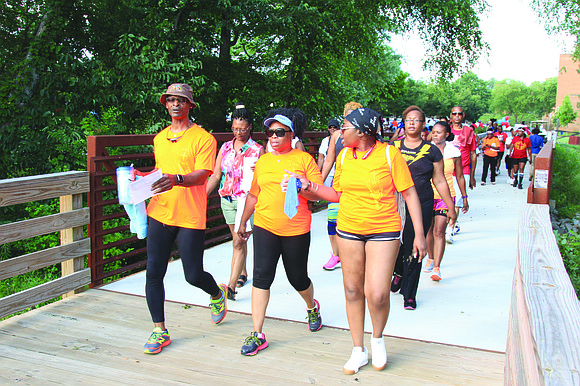 Millennials, seniors, churches, HOAs, organizations, businesses, schools and others can take steps toward good health at "America Walks DeKalb Walks" events throughout March.
District 3 Commissioner Larry Johnson is leading the campaign in partnership with the Heart of South DeKalb Inc. and America Walks (americawalks.org), which awarded a grant to the Heart of South DeKalb to create a walking program that is open to everyone, especially seniors.
To register for the free events, visit www.eventbrite.com/e/america-walks-dekalb-walks-tickets-32012770057?aff=ehomecard.

The campaign kicked off on March 4 at the Michelle Obama Walking Trail at Georgia State University Perimeter College in Decatur with about 50 people in attendance.
Upcoming walks take place in Decatur on March 11 at Chapel Hill Park, 3985 Lehigh Blvd., and March 18 at Barker Bryant Memorial Park, 2300 McAfee Road. Details of the fourth walk on March 25 will be announced later.
Warm-up with exercise motivator Rae Rae Clark begins at 8:30 a.m. and the walk starts at 9.
The goal is to walk 300 miles together for District 3.
The group with the largest participation during the monthlong campaign will be awarded an inaugural trophy.
DeKalb, designated a Let's Move! County, is the first county in the nation to make walking the official exercise and the first to name a walking trail after the former first lady, whose Let's Move! campaign sought to reduce childhood obesity and encourage a healthy lifestyle in children. The first walk was in honor of her campaign.
Residents can join walking clubs and explore the many walkable communities, parks and trails in DeKalb – email taturner@dekalbcountyga.gov or call 404-371-2425.
For more information, email hosd13@yahoo.com or call or text 404-683-3599.