Businessmen battling to be Stonecrest mayor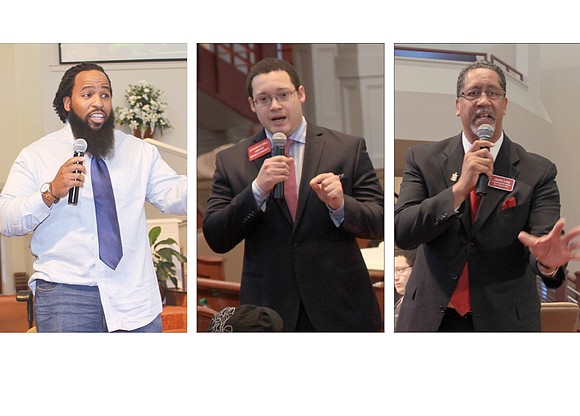 Jason Lary, the defacto "Father" of the city, Charles Hill, 11, who grew up in the city and was shaped by it, and relative newcomer Douglas Favor, all want to be mayor of the new 29-square-mile city.
Lary, 55, thinks that having worked to bring the city into existence, he deserves the office. Hill, 32, thinks its time for new blood in his home town; and Favors, who arrived in Stonecrest a mere three years, says, "I am smiling all the time."
The three are among 20 candidates seeking the first elected offices for the city of 50,000 in the March 21 special election. The winner will serve until the Dec. 31, 2019 before running for a full four-year term.
Favors, who was born in Germany to military parents, said he put his roots in Stonecrest and want to be representative of what he has learnt. He is self-employed and says he is running for mayor because he is not a politician, business as usual, or a traditional candidate.
"My energy and abilities combined with my vision of a great Stonecrest are unmatched," he says.
Favors says he said he has the time to do the work of mayor.
"I just need the title," he said.
Favors, 35, has positioned himself as an unconventional candidate. At his first forum on Feb. 19 at Big Miller Grove Baptist Church, he took off his jacket, loosen his tie and pulled his shirt shirts out of pants before taking the microphone.
In his closing remarks, he told the voters, "to vote for the beard."
At the recent Feb, 27 forum at First Africkan Church, he declined to offer a vision for Stonecrest. Instead he said he wants to see the voters want.
"I see my work and yours together," he said. "That's what I see."
Favors said he supports the proposed Atlanta Sports Complex at Stonecrest and a technology hub for the city.
"Nothing wrong with either," he said. "I am only hearing this is not going to work. We are in a new city. We can do both of those things."
Favors said both things can co-exist in the city.
"Everybody is not into technology," he said. "Some kids are good at sports. They should be able to live in the same city and have the same opportunity to do exactly what they want to do with their lives."

Favors said that while he hasn't been in the city as long as everybody else, he know s exactly what's going on.
"You might want to go with the guy who don't want the outcome to be exactly what it will end up being," he said.
subhed goes here
Hill, a 2003 graduate of Lithonia High School, said he is running for mayor because he thinks something is broken in the community.
"I think its time for a change," said. Hill, 32. "The definition of insanity is doing the same thing over and over again expecting a different result. It's time for some new blood and some new leadership. I offer that."