Commissioner Steve Bradshaw determined to erase racial divide in North-South DeKalb
One of the first orders of business for Commissioner Steve Bradshaw (D-4), who was just elected on Nov. 8 and took office on Jan. 1, was to obliterate the invisible, yet very discernable, racial demarcation that separates North and South DeKalb County and make it one.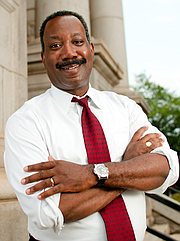 Bradshaw, a former officer in the military who served time as a tank commander during the first Gulf War in the early 1990s, is very experienced at working with disparate personalities, cultures and dispositions, and it has served him well during his illustrious career in corporate America. He is using those intangibles and experiences to his advantage on the DeKalb County Board of Commissioners.
"What I've been determined to do, in a very overt, systematic way, to break up this old north-south, black-white paradigm. I've been determined to do that," says That part is happening. The fist evidence of that was the first vote we took at the very first meeting that we took at the beginning of the year for presiding officer. Kathie Gannon is our presiding officer, and it was important to me – and I'll just be candid, I worked behind the scenes – after I got elected in November, to make sure that she got elected with at least five votes."
He said this is important because votes cross over the north-south and black-white barriers and impact the entire county as a whole.
"This old paradigm of four black commissioners voting one way and three white commissioners voting another way was destroying this county. With a county this big and diverse. That's a paradigm that's not sustainable. And I've been determined to break that up," Bradshaw said.
Bradshaw said he was pleased that DeKalb County CEO Michael Thurmond's $1.3 billion budget was passed on Tuesday, Feb. 28, which enables the county's chief executive to rectify the appalling and longstanding water billing disaster. It will also enable the county to purchase four street sweepers in order to rid the county of blight and trash that has bedeviled the area for years.
"Now we don't have fully-formed solutions yet, but I think that he did a good job setting people's expectations properly that getting out of this mess is not going to happen overnight," he said.