District 3 candidates bring different government experience to table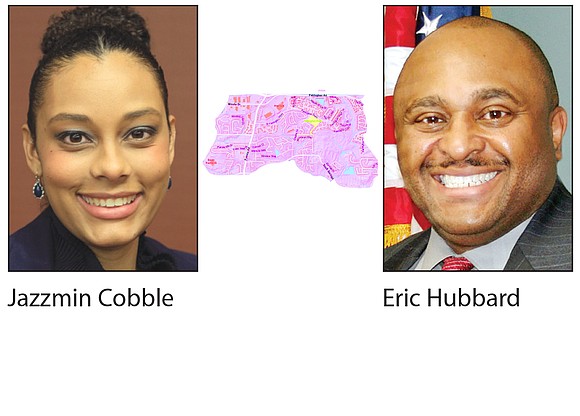 In the battle for the Stonecrest Post 3 council seat, government auditor Jazzmin Cobble and congressional outreach director Eric Hubbard bring different government experience to the table.
Cobble, a five-year resident of the newly-formed city, has audited local governments, municipalities, boards of education and the state university and technical college systems.
Hubbard, a 26-year Stonecrest resident, has strong chops in government relations and constituent services.
Both skill sets would be useful when the new city council and mayor take their seats after the March 21 special election.
At forums and on the campaign trail, Cobble – who has seven years with the state of Georgia, the last four with the Department of Audits and Accounts – says numbers are her strong suit.
"I understand the numbers and I have fresh ideas," she said, adding that "the numbers" are going to be real important in sustaining economic development in Stonecrest.
"To have our city running at full pace, we need to be in the black and never in the red," she said. "We have to be in the black and have a surplus."
Cobble, who has a master's degree in public administration with a concentration in government management, said she understands what it looks like for government management to function properly and has the education to back it.
Hubbard who has worked 17 years with US Rep. Hank Johnson, first as his executive assistant when he was a DeKalb Commissioner, and now as his Fourth District outreach director, is well-known in the city. He is a graduate of the University of Tennessee and he has a law degree from John Marshall Law School. Hubbard points to his experience in governmental relations, community development, connecting students with scholarships; and working in veteran and senior services.
"We need people who know how to deal with government, deal with contracts, talk about economic development, " Hubbard said. "I am offering myself for service to make sure no stone is unturned as it relates to our government and our new city,"
Coming out of law school, Hubbard said he fell behind on his taxes and the IRS put a lien on his home because "I did not give the IRS all the money that they felt they needed. I had to pay so much a month until they got all the money they felt they needed."
Hubbard said residents has the opportunity to build a model city, not only for Georgia but for the world.
The two are among 20 candidates vying for five council seats and mayor in the city. The special election winner will serve until Dec. 31, 2017 before running for a full four-year term.
Cobble cut her teeth in community working volunteering with Albany State University Alumni Association.
"I bleed blue and gold, she told voters at a Feb. 11 candidate forum. . Albany State University gave me everything I have to begin with, so I only feel it's right to give that back.
Cobble said council members' responsibilities is to talk to our residents, to 'what would you like to see.'