More than 33,000 eligible voters to pick Stonecrest mayor, council members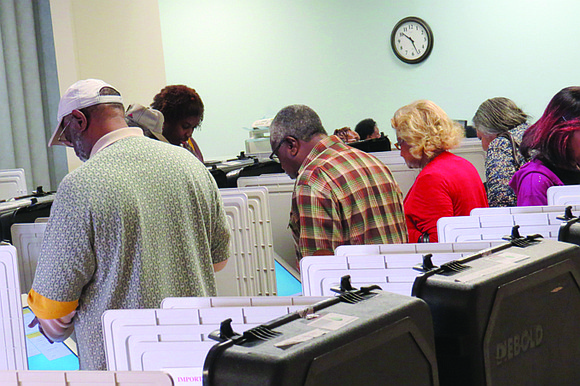 Some 33,373 Stonecrest voters will pick the first mayor and city council members in the March 21 special election.
Three candidates are vying for mayor and 17 for the five council seats.
Maxine Daniels, director of DeKalb Registration & Elections, said voting cards were recently mailed to 33,373 active and inactive voters.
She said the final count of voters is being prepared and will be available next.
The slate includes 13 men, and 7 women. Among them are three Phds – Charles Ross, Gretchen Jones Torbert and Diane Adoma; two lawyers, Alexis Morris and Eric Hubbard; and six who have had bankruptcies – Jesse "Jay" Cunningham, Jason Lary, Alexis Morris, Eric Hubbard, Lloyd Morrison, and Gretchen Jones Torbert.
The candidates for mayor are self-employed businessman Douglas Favors, II; Charles Hill, II, a vice president of Rooms Around Campus LLC; and real estate manager and Stonecrest city organizer Jason Lary.
The candidates for mayor are businessman Douglas Favors, II; Charles Hill, II, a vice president of Rooms Around Campus LLC and a Yale graduate student; and Stonecrest city organizer Jason Lary.
In District 1, the candidates are Charles Ross, an educator and business owner; and Jimmy Clanton, Jr., a web developer/graphic designer.
In District 2, the candidates are businessman Plez Joyner, Alexis Bethel Morris, a high school social studies teacher; Gretchen Jones Torbert, an educator and life coach; and program manager, Rob Turner.
In District 3, the candidates are Eric Hubbard, who is outreach director for congressman Hank Johnson; and Jazzmin Randall Cobble, an operations manager for the Georgia Department of Audits and Accounts.
District 4, with five candidates, yielded the largest slate of the election. They are retired police detective Geraldine Champion, former DeKalb School Board member Jesse "Jay" Cunningham, Mary-Pat Hector, a Spelman student and National Action Network Youth director; Jonathan "JP" Phillips, non-profit executive; and community advocate and retired MARTA manager George Turner, Jr.
In District 5, the candidates are businesswoman Diane Daniels Adoma, Tammy L. Grimes; Lloyd Morrison, an educator and businessowner; and Richard Stone, a retired DeKalb County Police detective.
Early voting for the election has been underway since Feb. 27 and ends on March 17.
Eligible voters can cast early ballots weekday, 8 a.m. to 5 p.m. at the DeKalb Elections Office, 4380 Memorial Drive in Decatur. Through March 10, only 161 voters had cast ballots.
All 19 precincts in the city of Stonecrest will be open on election day, March 21, from 7 a.m. to 7 p.m.
Runoffs, if needed, will take place April 18.
A sample ballot is available at www.dekalbvotes.com/
Residents can verify if they live within the new city and their council district at http://stonecrestcityalliance.com/dmap.html and searching by their address. Voters can also search at for their district at www.stonecrestcity.com.
The winners of the March 21 election will make up the first elected government of the new city of 50,000.