Stonecrest 4, the race with the most candidates, experiences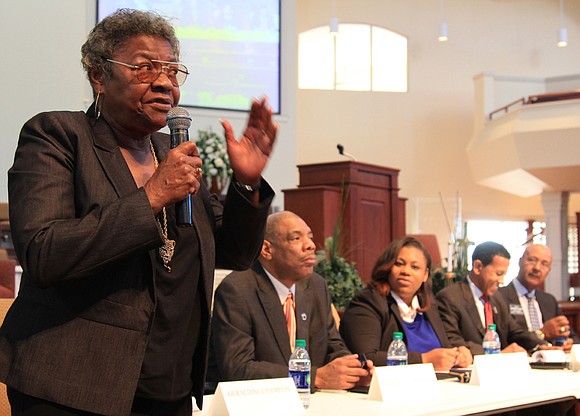 In an election that has attracted a crowd, the Stonecrest District 4 council seat is the big winner with most – five – candidates.
The political hopefuls include the election's youngest candidate, Mary-Pat Hector who is 20, its oldest candidate, retired police detective Geraldine Champion, who is 77; and the only former elected official, Jesse Jay Cunningham. Nonprofit executive Jonathan "JP" Phillips and community advocate George Turner round out the slate.
The winner of the March 21 special election will serve until Dec. 31, 2019 before running for a full four-year term of office.
The District 4 race also has the most experienced campaigners. Both Champion and Turner have run for office before – Champion for sheriff twice, and Turner for county commissioner.
Champion, who has lived in Stonecrest for 30 years, said her Minors Creek subdivision neighbors asked her to run for city council because "they want to see the city set up right."
Champion, who retired from the Atlanta Police Department in 1993 after 26 years, is a veteran who worked as a US army interrogator. She says she does not want any corruption in the new city.
" I've always emphasized honesty, and integrity, " she tells voters at every candidate forum. "You going to hear that honesty and integrity a thousand times, which tells me you can make the mouth say anything."
If elected, Champion said she will be on the hunt for corruption.
"So don't wonder about who ratted you out," she said. "You looking at her."
Champion said fighting crime is high priority for the new city.
"Nobody is coming no where if every time you go to unlock that business door, somebody got a gun stuck to your head," she said. "Crime is number one because any business going anywhere is going to check to see what the crime rate is."
If elected, Champion said she will be accessible and available.
"That's the way I would be even if you don't live in my district," she said. "And if you can't get the person in your district. Call me. You shouldn't have to wait three or four days to get your concern listened to."
Champion said she have been working in her neighborhood for a long time and is not running for the money. If elected, she said she will serve no more than two years.
"I don't jump into this for no $50,000," she said. "My thing is we have to be honest. You know that it is going to start off on the right foot if you see my name on it."
subhed here
Cunningham, who runs a restaurant on Wesley Chapel Road, is a 54-year DeKalb resident. He has lived in Stonecrest for 17 years in Burlington Subdivision off Browns Mill Road.
He served eight years as the District 5 School Board member before Gov. Nathan Deal removed the school board he was part of in February 2013 for dysfunctional behavior.
Cunningham said he is running for the Stonecrest city council because he has a passion for the community.