Two teachers, a businesswoman and a retiree seeks Stonecrest 5 seat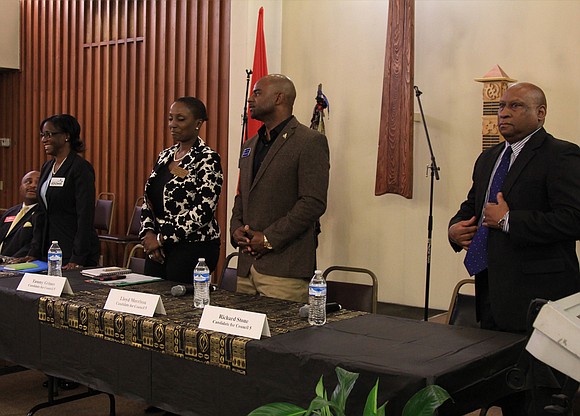 The race for the Stonecrest District 5 seat is pitting a businesswoman, two teachers, and a retired police officer against each other.
Dr. Diane Daniel Adoma, 60; Tammy Grimes, 51; Lloyd Morrison, 42; and Richard Stone, 63; are facing off in the March 21 special election to represent the district.
The winner will serve until Dec. 31, 2017 before running for a full four year term.
Adoma, who has been a DeKalb resident for 25 years has lived in Stonecrest for the last eight. She has been in business for 20 years working with clients like CNN News, AT&T and H&R Block. She worked to help create the city and says she is running for the council because she a unique set of skills that can help it grow and thrive.
"I recognize that it is important for us to attract quality business to the city of Stonecrest," she said, adding that she wants to increase Stonecrest's median income from $38,000 by expandingg job options.
"I want to bring in high paying jobs," said Adoma. "I want to build a smart city, create high-paying jobs by bringing in a technology village, and engineering, and software jobs."
"If we make Stonecrest, an environment that is attractive to businesses, we can increase the tax base," Adoma said.
She told voters at a Feb. 27 forum at First Afrikan Presbyterian Church that the city council needs a person like her who can reach across the aisle and work with anybody, no matter their gender or political affiliation.
"It is very important to have a collaborator, to have someone who can compromise," she said. "You need someone who recognizes that if you have one vote, you need two other votes to pass any policy or legislation."
Adoma said a city council member's role is to look out for the well being of the community, and that she can do it with transparency and accountability.
"I am willing to work with anybody," she said.
Adoma called the proposed $200 million sports complex, unveiled on Feb. 22, a fabulous idea and a great opportunity.
"I support it but I also support diverse businesses so I am not going to rest until everybody in here have a job and I don't have to drive out of my neighborhood to get what I want."
Adoma said the city has lure back the businesses it lost to neighboring counties.

subhed goes here
Grimes, who taught at Salem Middle School for 18 years, has been a Stonecrest resident since 1989.
She and her husband were developers of the Trinity subdivision, where they still live.
"Talk about economic development," she said. "Top that."
She said she is running for the council to help the city grow.
"We can do all those flowery glittery things that we are talking about but nobody is coming to Stonecrest unless they feel save," she said.
She said she is excited about the sports complex and is not concerned that it was unveiled before the council is elected.