Atlanta Jazz Festival celebrates 40th anniversary in 2017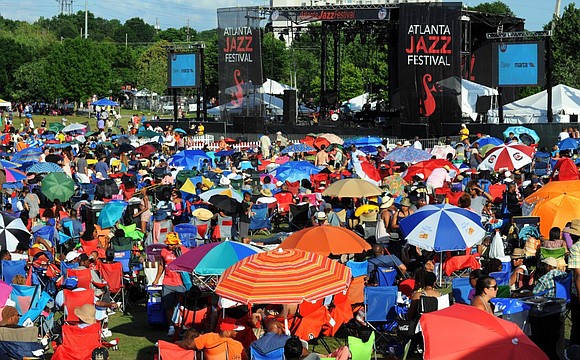 ATLANTA -- Mayor Kasim Reed's office christened the ultra-popular annual Atlanta Jazz Festival at Atlanta City Hall on Monday by announcing the vast and versatile lineup before a crowd of media, musicians, music lovers and dignitaries. The Jazz Fest will celebrate its 40th anniversary in May by three days of music spanning the spectrum of the American-born genre, featuring the more traditional Freddy Cole to the funky modern bassist Nik West.
The free, annual gathering normally attracts more than 100,000 jazz lovers and vacationers to Piedmont Park every year during the Memorial Day holiday weekend. This year, the bulk of the festivities will take place May 26-28.
The Office Of Cultural Affairs said last year's event attracted more than 150,000 attendees, according to festival research, and resulted in a $15.5 million economic impact for the city.
To commemorate the milestone anniversary, this year will also feature 40 Days of Jazz -- normally entitled "31 Days of Jazz" -- leading up to the Memorial Day, multi-stage and multifaceted extravaganza. The 40 Days of Jazz will commence on April 21 with an art gallery opening at Arnika Dawkins Gallery.
Other special events include MARTA Mondays with performances as various MARTA stations, as well as the Neighborhood Jazz Series.
lso, a 40th anniversary coffee table book – a photo compilation of the history of the festival – has been produced by the Mayor's Office of Cultural Affairs and can be purchased for $65.
The lineup for the 2017 Atlanta Jazz Festival:
FRIDAY, May 26
Legends Stage
7 p.m. – The Pedrito Martinez Group
9 p.m. – Robert Glasper Experiment
SATURDAY, May 27
Legends Stage
1 p.m. – The Allan Harris Band
3 p.m. – Regina Carter: Simply Ella
5 p.m. – Randy Weston's African Rhythms Quintet
7 p.m. – Reńe Marie and Experiment in Truth
9 p.m. – Charles Lloyd Sky Trio
Contemporary Stage
1:30 p.m. – Moonchild
3:30 p.m. – Nik West
5:30 p.m. – Nicholas Payton Afro-Caribbean Mixtape
7:30 p.m. – Macy Gray
Next Gen Stage
12:30 p.m. – Little Tybee
2:30 p.m. – Harriet Tubman: The Band
4:30 p.m. – Deva Mahal
6:30 p.m. – Marquis Hill Blacktet
Late Night Jazz Jam // Park Tavern at Piedmont Park
11 p.m. – The Miles Davis Electric Band Tribute All Star Jam with Lil' John Roberts feat. Russell Gunn and Miles Davis band member Mino Cinelu
SUNDAY, May 28
Legends Stage
1 p.m. – Dwight Andrews
3 p.m. – Joe Jennings & Howard Nicholson's Life Force
5 p.m. – Celebrating Sarah: Kathleen Bertrand & Friends Honor Sarah Vaughan
7 p.m. – The Joe Gransden Big Band with Audrey Shakir
8 p.m. – The Ojeda Penn Experience
9 p.m. – Freddy Cole
Contemporary Stage
1:30 p.m. – Frank Houston
2:15 p.m. – Kemba Cofield
3 p.m. – Darren English
3:45 p.m. – Cleveland P. Jones
4:30 p.m. – Julie Dexter and Jacob Deaton Duo featuring Rasheeda Ali
5:15 p.m. – Mamaniji Azanyah & Mastery
6:15 p.m. – Russell Gunn & African Drums meets Kebbi Williams' Wolf Pack
7:30 p.m. – Mausiki Scales & Common Ground featuring Giwayen Mata
Next Gen Stage
12:30 p.m. – Rialto Jazz for Kids
2:30 p.m. – Danii Roundtree
4:30 p.m. – Brenda Nicole Moorer
6:30 p.m. – Tivon Pennicott Quartet
For a Complete listing of jazz events, times and places, log onto http://atlantafestivals.com/events/2017-04/