12 women to be recognized as DeKalb Hidden Figures
3/17/2017, 6 a.m.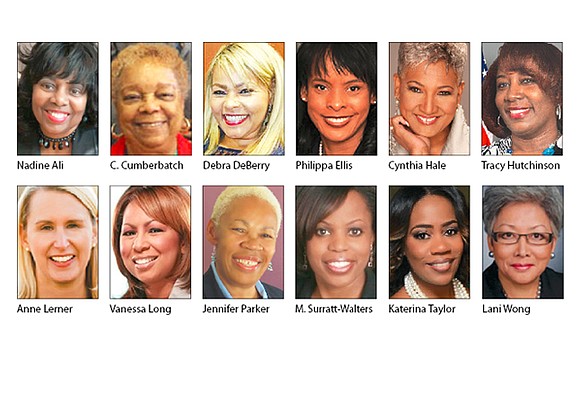 Twelve women who have made significant contributions to improving the quality of life in DeKalb County will be recognized at the Hidden Figures of DeKalb Awards Ceremony on March 23 at the Porter Sanford III Performing Arts Center in Decatur.
The program, which is free to attend, begins at 11 a.m. To register, visit https://www.eventbrite.com/e/commissioner-gregory-adams-hidden-figures-of-dekalb-awards-ceremony-tickets-32333052029.
District 7 Commissioner Gregory Adams is host for the ceremony, which honors the accomplishments of women who have improved the lives of others and who have advanced the arts, the sciences, education, politics, and their community, celebrating the many women throughout DeKalb for their hard work that may sometimes go unnoticed.
Honorees are Jennifer Ffrench Parker, editor and publisher of CrossRoadsNews; the Rev. Dr. Cynthia Hale, founding and senior pastor of Ray of Hope Christian Church; Katerina Taylor, president and CEO of the DeKalb Chamber of Commerce; Myra Surratt-Walters, founder of Greater Works Inc.; Anne Lerner, a member of the Tucker City Council, District 3, Post 2; Vanessa Long, widow of Bishop Eddie Long, New Birth Missionary Baptist Church; attorney Philippa Ellis, wife of former DeKalb CEO Burrell Ellis; Lani Wong, chair of the Atlanta Regional Chapter of the National Association of Chinese-Americans; Tracy Hutchinson, interim deputy director of Public Works-Sanitation; community leader Carleen Cumberbatch; Nadine Ali, assistant treasurer of the DeKalb NAACP; and Debra DeBerry, clerk of DeKalb Superior Court.
The center is at 3181 Rainbow Drive. For more information, visit www.commissionergregoryadams.com or call Ashlee D. Wright at 404-371-2204.