Avondale Estates mayor, business leaders celebrate groundbreaking of mixed-use development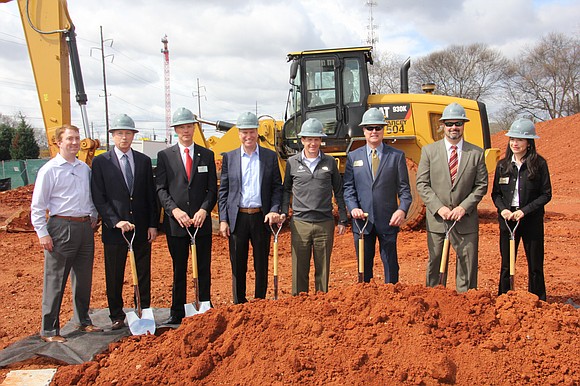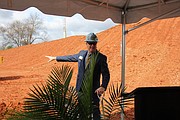 The construction of a multimillion-dollar mixed-use development building in the heart of Avondale Estates is going to transform the city's business district, the mayor and business leaders proclaimed at the groundbreaking on March 10.
Located on the shoulder of the main artery, College Avenue, leading into the city's center, the four-story project includes 197 apartments, 8,000 square feet of retail and restaurant space, and a one-acre gateway park. It is projected to be completed in May 2018.
Mayor Jonathan Elmore did not try to hide his excitement with how the city's socio-economic paradigm will be shifted positively by the development located at 2718 E. College Ave.

"It's a turning point in our city's history," Elmore said. "Economically, it's going to add new residents in the middle of our business district who we desperately need to roam around, drink coffee, eat dinner [and] use our businesses."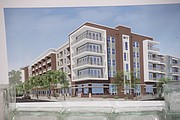 In addition to the gateway park, the development also will include a space to preserve the mature trees, a rear parking deck with additional on-street parking, and generous sidewalks and street trees to enhance the pedestrian experience.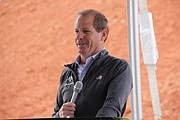 Elmore cannot speculate at this juncture the exact type of businesses that will fill the retail space, but he said he can assure residents the development will infuse the area with positive energy and leisure options.
"I'm not sure what that's going to be, but that's going to be pretty exciting," the mayor added. "In our central district, we want to create that live-work-play thing that you want to hear about in Atlanta. And if you don't have people working there, it's hard to keep it invigorated 24 hours a day. And we're really happy to have new residents here."
Elmore's sentiments are shared by John Long, one of the partners of South City Partners that bought up the property. The company closed on the project and demolished three buildings to make room.
"It's a great addition to the gateway to Avondale Estates and I'm excited to be a part of Avondale Estates," Long said, adding that it has no affiliation with the mixed-use development at the nearby Avondale MARTA train station. "I don't think it's inconsequential. I think it's relevant in that there will be a critical mass of development at the MARTA station. We were fortunate to be across the line [city limits separating Avondale Estates from Decatur] and they are not. And that will work to our advantage. And we're excited about that."