Cynthia Houston inspired DeKalb's Operation Clean Sweep Initiative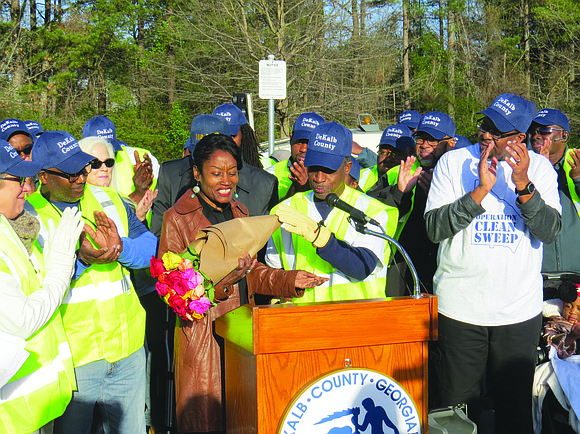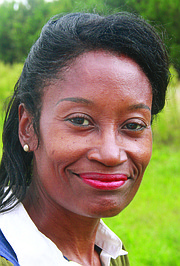 Cynthia Houston, who has been picking up trash in her Stone Mountain neighborhood for more than 16 years, got roses and gratitude from DeKalb County government on March 11 at the kickoff of its Operation Clean Sweep Initiative to beautify the county.
DeKalb CEO Michael Thurmond said that the first time he saw Houston picking up trash alone along Stone Mountain-Lithonia Road was 14 years ago.
"Through rain, through hot, through cold, through summer, in the evening, in the morning, there is this beautiful petite lady out there picking up trash," he said. "You have inspired a CEO. You have inspired a County Commission. You have inspired a county government. You are alone no more because we are in it with you."
Thurmond said he chose to launch the cleanup in Stone Mountain because of Houston, who has been picking up trash in her neighborhood near Wade Walker Park where the ceremonial kickoff took place.
Thurmond was joined by DeKalb Commissioners Mereda Davis Johnson, Stephen Bradshaw, Kathie Gannon and Gregory Adams.
"The reason we are standing here is because when you are doing good, you never know who is watching," he said.
After the kickoff, two street sweepers, two dump trucks and dozens of county employees armed with shovels began scraping years of built-up dirt, trash and grass off the curbs along Stone Mountain-Lithonia Road. Some also picked up trash.
Houston, a full-time administrative assistant, said she took it upon herself to clean up her neighborhood because she saw Stone Mountain deteriorating. Two to three days a week, she starts in her Stonington Trace subdivision and works her way down Stone Mountain-Lithonia Road to Rockbridge Road, sometimes beyond.
Along the way, she picks up trash in front of homes and businesses, from empty lots and along the roadway, filling about six large bags of trash per week. On Stone Mountain-Lithonia Road, two Keep DeKalb Beautiful Adopt-a-Road signs bear her name.
"I didn't want my current environment to mirror my former environment," she said, adding that she came from a large city with lots of crime and trash. "I thought that if I cleaned it, people might want to join me, and if they don't, that's OK. If you don't do it, nobody else will."