Lary and 'the Jason 5' benefit from campaign mailers from mystery benefactors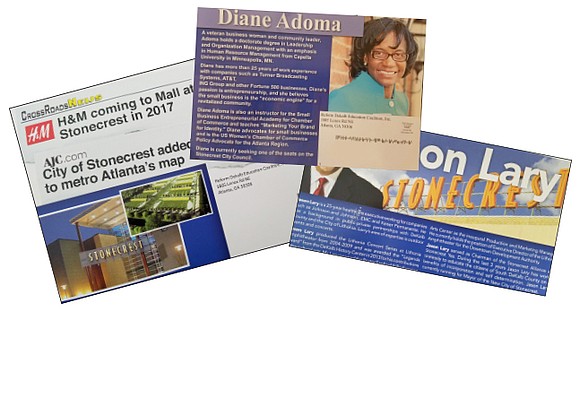 In the final weeks of campaigning for the new City of Stonecrest, an Atlanta-based firm is spending heavily to support a controversial "slate" of candidates, a move which is leaving voters mystified and raising questions about shadowy interest groups seeking to influence the March 21 election.
CrossRoadsNews has learned that the Reform DeKalb Education Coalition, Inc. (RDEC) poured an approximately $20,000 into producing and distributing slick campaign mailers that began arriving in mailboxes across the freshman city earlier this month.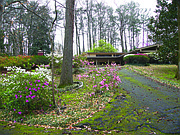 Although the historic election is taking place more than 12 miles away in neighboring DeKalb, the return address on the RDEC mailers is for a $900,000 private residence on a hilly Buckhead enclave in Fulton County. Several attempts to reach company officials to explain the RDEC's motives were unsuccessful.
The RDEC's titular focus on "education," a function which is not in the purview of the Stonecrest's municipal charter, has only raised more questions -- and eyebrows.

On one side of the full-color mailers the RDEC sent to thousands of Stonecrest households is photo of mayoral candidate Jason Lary and his short biography. Depending on each voter's address, the flip side of the same mailer features a photo and bio for, respectively, Diane Adoma, Eric Hubbard, Plez Joyner, George Turner and Jr. Jimmy Clanton, Jr., the same candidates who have been closely associated with Lary since before the city's inception.
When asked, Lary and the five candidates who were featured in the mailers said they were clueless about the RDEC, or who was behind the group.
"I needed those mailers," said Adoma who is running against Tammy Grimes, Lloyd Morrison and Richard Stone for the District 5 council seat. "I don't know where they came from, but I was glad to have them."
Plez Joyner, a candidate running in District 2 described the mailers as "a pleasant surprise." Joyner, whose rivals are candidates Alexis Morris, Gretchen Jones-Torbert and Rob Turner, said he had only a minor complaint about the mailers: "They misspelled my wife's name."
Lary and four of the five council candidates who appeared on the RDEC mailers said their photographs and other information had seemingly been cut-and-pasted from the Internet and their campaign websites without their knowledge or consent. Hubbard, who is running for Council District 3, said his website was under construction and he was contacted by a representative of the RDEC, a person whom he did not identify.

Lary has repeatedly insisted he's not running in tandem with the quintet of candidates, a denial that the five city council hopefuls in question have either echoed – or at times, confirmed – at various campaign stops.
However, the RDEC mailers indicate a coordinated, if unsolicited, effort to throw significant support behind Lary and the candidates who some skeptical Stonecrest residents have jokingly dubbed, "The Jason 5."
Coalition remains mystery
Candidates Clanton and Adoma said they tried to research their benefactors, but like CrossRoadsNews had little luck finding helpful information about the RDEC, which is registered as a private company on the Georgia Secretary of State's website.