Lary and 'the Jason 5' benefit from campaign mailers from mystery benefactors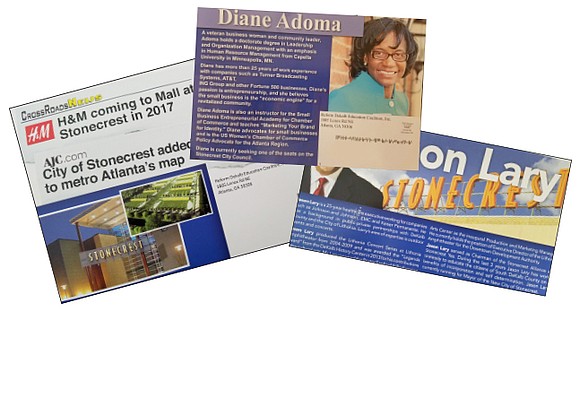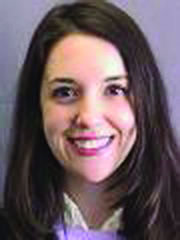 The state's records show that Joanna Mallios, who is listed as the company's Agent, CEO, CFO and Secretary, registered it as a corporate entity on Oct. 8, 2015. RDEC's offices are at the same sprawling ranch-style home on Lenox Road address in Buckhead that matches the mailers sent to Stonecrest voters.
Further digging shows that Mallios married Brian Gomez in October 2016, and that he owns, and or, lives at the Lenox Road address where the RDEC is headquartered. No telephone number was available at press time for Mallios or Gomez and CrossRoadsNews was unable to reach Mallios for comment.
While the Reform DeKalb Education Coalition is not registered, Mallios is registered lobbyist with the Transparency Commission under her married name Joanna Gomez.
On March 16, her status was listed in red on the Transparency Commission's website as "Lobbyist is Inactive," and four disclosures filed by her for Jan. 1 through Feb. 28 list zero dollars spent.
Thousands spent on mailers
A source who asked not to be identified confirmed that Mallios-Gomez worked for a political pollster and campaign consultant named John G. Garst, who is well-known in state Republican circles.
Contacted by telephone on March 16, Garst said he was "in the middle of something," and promised to call back. By press time Thursday, he did not.
While Garst and the RDEC remain a mystery, there's no doubt that the company is putting its money where its mouth is.
Don Jackson is the owner of Best Print and Design, a Decatur-based print shop that has experience with campaign mailers. Although he did not print the RDEC mailers, he said it represented a substantial investment.

"It's easily $12,000 to design, print, and mail 30,000 copies," Jackson said. "The mailing is a fixed cost and that is $7,200."
The mailers have left Stonecrest voters wondering who's behind the RDEC, what they expect from the candidates they are endorsing if they win, and whether the company is operating in violation of state campaign laws.
RDEC has not registered as a PAC nor has it filed campaign disclosures detailing its expenditures during the run-up to the Stonecrest election. Maxine Daniels, DeKalb Registration Elections director, referred questions about the company to the Georgia Government Transparency Campaign Finance Commission which also had no record of it.
"There is no committee registered under Reform DeKalb Education Coalition, Inc.," said Maria Bazile, the state commission's Compliance, Information and Training Manager.
Asked if an organization which endorses candidates is required to file disclosure reports, Bazile said it would depend on the type of committee.

"For example," she said, "a ballot committee would register and report locally once crossing $500. But a PAC is exempt from registration and reporting until they cross $25,000 in contributions and expenditures to candidates and public officials. An Independent committee would register at first penny."
Garst's relationship with the RDEC is still unclear. Since 2011, he has been registered as a lobbyist with Transparency and Campaign Finance Commission. Among the four active clients listed on his disclosure form are CPS Strategies and the Eagles Landing Educational Research Committee (ELERC), which lists its purpose is listed as "education" and its offices and phone number in Stockbridge.
Like the Stonecrest Alliance did successfully, the Eagles Landing group is also advocating for the establishment of a new city in Henry County that would be carved from the City of Stockbridge's existing municipal borders. ELREC's cityhood effort mimics the same message used to promote the City of Stonecrest. Both tout the benefits of lower taxes, improved economic development and better code enforcement.
Over the last two weeks, the Stonecrest City website has been soliciting the opinion of residents about education, even though its charter does not call for its own school district.