Operation Clean Sweep underway, 50 tons of debris cleared from county curbs first day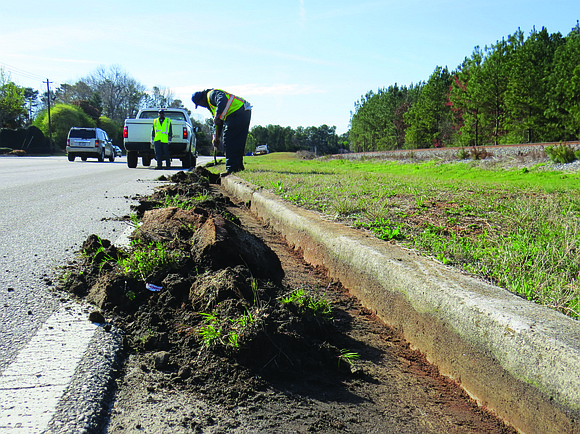 Muck, gunk, debris and all that stuff that have been caked up along DeKalb County curbs are getting the boot.
Operation Clean Sweep, which kicked off March 11, began chiseling away the built-up debris that DeKalb CEO Michael Thurmond says blocks the flow of stormwater into county drains and contributes to standing water on the roads leading to potholes and other issues.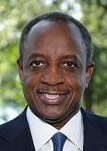 Right after Thurmond and Commissioners Gregory Adams, Steve Bradshaw, Mereda Davis Johnson and Kathie Gannon made speeches to signal the start of the initiative, dozens of county workers fanned out along Stone Mountain-Lithonia, Redan and Panola roads with shovels to bump the curbs.
Twelve miles later, county dump trucks hauled away more than 50 tons of dirt, sand, grass and debris.
Two street sweepers also made their debut, sweeping the curbs along the route.
The sprucing up of county roads is part of a $24.9 million initiative approved in the county's $1.3 billion 2017 budget. Operation Clean Sweep, which will clean 137.6 miles of county roads and stormwater drains, includes the leasing of four street sweepers, a front-loader dump truck, trailer and other equipment, personnel and overtime costs. It continues Saturdays through August to clear grass, trash and debris from roadway drains and curbs, mow rights of way, and remove litter.
Marcus Kellum, DeKalb's Beautification director, said March 11 was "a good day" in DeKalb County.
"Today is the start of something incredible," he told county employees and a small group of community and civic leaders who gathered for the 8 a.m. kickoff in the parking lot of Wade Walker Park. "This is not a one-day effort. This is an effort that is going to carry through for years going forward because we are excited about this and we know what we need to do and we are ready to do it."
Kellum said the silo mentality has been eliminated at the county, and multiple departments – Roads and Drainage, Sanitation, Infrastructure, Keep DeKalb Beautiful, Code Enforcement, and Public Safety – are now all working together to beautify the county.
"We are all on the same page folks," he said. "Everybody is here together to address blight in the county. We are going to dust off this gem that is DeKalb County and we are going to hit the streets and we are going to clean the streets, and we are going to sweep the streets, and we are going to bump these curbs, and we are going to remove litter, and we are going to do everything that you have always wanted because we are serious about the way the county needs to look."
While county crews are "bumping the curbs" and picking up litter and other debris, Kellum said county code enforcement officers will be talking to residential and commercial property owners about how they should maintain their property.
"This is a collaborative effort with all departments addressing these issues too," he said.
Thurmond, who dedicated the kickoff to Keep DeKalb Beautiful volunteer Cynthia Houston, who has picked up trash along Stone Mountain-Lithonia Road for more than 16 years, said that the true goal of Operation Clean Sweep is for individuals, neighborhoods, community associations, fraternities, and sororities to take up the mantle and help the county get the job done because charity starts at home and removing litter starts in your back yard.