Operation Clean Sweep underway, 50 tons of debris cleared from county curbs first day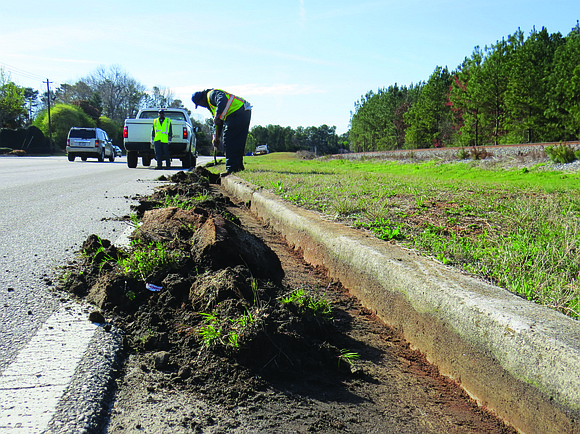 "You can make a difference in your own neighborhood," he said. "Make sure your neighborhood association is keeping the entranceway clean and cut. We need your help. We need you to stand up in church. Hear me now – cleanliness is next to godliness."
The initiative continues March 18 with the Operation Clean Sweep crew working on Panola, Snapfinger and Salem roads.
To avoid delays, motorists are encouraged to use alternate routes and to drive with caution around employees and equipment.
Prior to Operation Clean Sweep, county curbs and storm drains had not been cleaned for five years. Thurmond said the county stopped both to save money.
Gannon, the BOC's presiding officer and Super DIstrict 6 commissioner, said the county intends to keep up its roads all over the county.
"This is our home," she said. "We respect our home and we are going to keep it clean."
Davis Johnson, who represents District 5, said she campaigned on cleaning up the county.
"Even though it's starting here, it is spreading throughout the county," she said.
Bradshaw, the District 4 commissioner who cast the deciding vote to fund Operation Clean Sweep, said DeKalb is a beautiful county that full is caring and committed citizens.
"We look forward to this being the start of many great things for DeKalb County," he said.
Adams, the District 7 commissioner, said it's important to have a clean county every day.
"If we see someone throwing out trash, toot the horn and say, 'Pick that up,'" he said.
To find out when Operation Clean Sweep will be on a street near you and other information, visit www.dekalbcountyga.gov/clean-sweep.