Rep. Hank Johnson slams "Trumpcare" after CBO report exposes disastrous impacts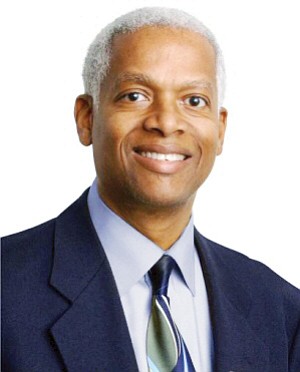 Rep. Hank Johnson (D-Ga.) has denounced what he calls the "Pay More for Less" healthcare bill proposed by Republicans in Congress and supported by President Donald Trump.
Also known as "Trumpcare," the bill purports to replace the Affordable Care Act, widely known as "Obamacare," that the GOP reviles.
However, the Congressional Budget Office, whose Republican director was appointed by Speaker of the House Paul Ryan (R-Wis.) dissected the Republican plan and released a report detailing "devastating" consequences of the proposed healthcare reform plan.
"After all of the Republicans' hollow promises, the cruel reality of their wretched 'Pay More For Less' bill has been exposed for all to see," Johnson said. "'Trumpcare' will result in millions of hard-working families losing their coverage.
"'Trump Care' also reduces access to affordable healthcare by defunding Planned Parenthood, which will make it more difficult for women, expectant mothers and children to have their healthcare needs met," Johnson added. "To make matters worse, 'Trump Care' gives millionaires and billionaires a deficit-busting tax break, while kicking 24 million Americans off their health care. Rather than finding meaningful solutions, this plan will instead result in less coverage, fewer protections and higher costs for all consumers."
Johnson called the GOP health care an "abandonment of working families."
To summarize, the Congressional Budget Office calculates that under the GOP plan:
-- 24 million people will lose their health insurance – Including 14 million people by the end of this year.
-- Under "Trump Care," 19 percent of the non-elderly population will be uninsured by 2026, compared to 10 percent by 2026 under current law.
-- The bill will slash Medicaid spending by $880 billion over the next 10 years.
-- Under "Trump Care," a 64-year-old with an income of $26,500 in the individual market will pay $12,900 more for health insurance each year.
-- Defunding Planned Parenthood will cause many women to lose access to basic health care, family planning services and contraceptives that would prevent unplanned pregnancies.
-- "Trump Care" awards $600 billion in tax cuts to the wealthiest Americans, including $2.8 billion to the 400 richest families in America.
"The fact is, a lot of people are going to see their health and their pocketbooks suffer under this disastrous plan," continued Johnson. "Georgia families will be devastated if Republicans get their way, and I will oppose changes to the Affordable Care Act that reduce its ability to provide affordable and accessible health care to the millions of Americans across the county who now benefit from it.
"Since the passage of the Affordable Care Act, the number of people without health insurance has dropped significantly, but Republicans have been more interested in fulfilling their campaign pledge to repeal and replace 'Obama Care,' rather than fine-tuning the existing law so that it better serves Americans," said Johnson.
"Moreover, 'Trump Care' eliminates Medicaid expansion, strips millions of Americans of their coverage, and shifts an estimated $370 million in Medicaid costs to the states. Medicaid coverage is especially critical for the elderly and their families. 'Trump Care' is a prescription for making millions of Americans pay more for less."