Stonecrest mayoral candidate Jason Lary dares rivals to reveal personal info to public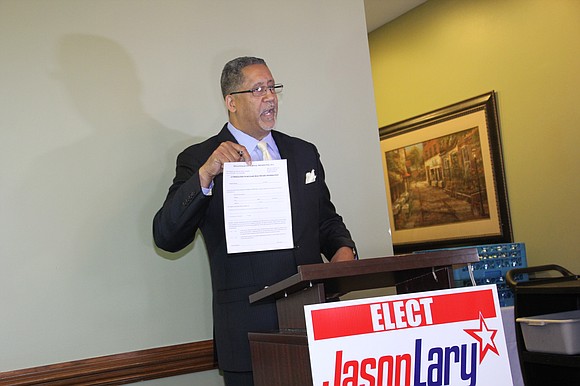 The tension and drama in the final days of the Stonecrest mayoral election have ratcheted up a few notches as candidate Jason Lary made the unprecedented move to challenge his political adversaries to reveal most of their personal information to the public, as Lary did on Tuesday, Mar. 14, 2017, presumably to weed out the small herd of candidates.
"Today I'm going to be releasing some highly sensitive information and documentation that will, no doubt, show to qualify me to be the first mayor of the city of Stonecrest," Lary, 55, pronounced in a press conference at the This is It restaurant on Panola Road in Stonecrest.
The special election for mayor and the five city council seats will take place on March 21, 2017. Early election is already underway.
Larry held up, one by one, his tax returns, medical records, mortgage deed and FICA score to demonstrate, in his words, that he has nothing to hide from the public he wants to serve.
"I'm going to let you have it all so that you know exactly where I stand," said Lary, one of the city's founding fathers and longtime businessman. "I have nothing to hide. I will be challenging my opponents to do the same, to release their information to the public."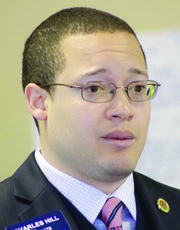 Businessman and mayoral candidate Douglas E. Favors II was unavailable to respond. Lary's other rival, Charles Hill II, a businessman and scholar, dismissed Lary's actons as nothing more than a "media and publicity stunt," and said Lary proposed this unprecedented move because he feels threatened by Hill's upward trajectory in the race.

"I don't know if it's because my campaign has gained momentum. I'm not sure if this is to try to keep Mr. Lary on the cover of local newspapers or in the AJC," said Hill, 32. "It seems like an attempt to remain relevant even if that relevance isn't necessarily associated with the issues of the community."
While he took pains to wish Lary the best in the campaign, Hill said he was disappointed that Lary chose to disparage Hill because of his age and for also making baseless claims that he's dependent on his family. Hill, a graduate of both Morehouse College and Harvard University who is less than one semester away from acquiring his second advanced degree from Yale University this spring, fired back at Lary.
Hill said Lary was pulling a "Donald Trump" stunt of making wild disparaging remarks against him.
I don't understand … I don't know if it's because of the reception that I received at First Afrikan (Presbyterian) Church or other debates, where people are really inspired by what I've been saying."
Hill, who works with the family business of remodeling homes in the vicinity of the famed Atlanta University Center (also called Consortium) and then rent them to students and low-income families, said Lary is afflicted with a presumption of ownership of the mayor's seat.
"Absolutely I believe there's an entitlement complex at work. I think that's very evident. They (Lary and other founders running for office) feel very much entitled to these offices and that's just not so," Hill said resolutely. "These offices belong to the community, and they have the right to exercise their privilege to the ballot to vote on whomever they want. And Mr. Lary may have participated in the early groundwork that ended up being the city of Stonecrest. But that does not entitle him to the office of mayor. He's not entitled to it and neither am I. No one is. People have the right to decide who will represent them. "
Undeterred by criticism, Lary said I will build Stonecrest neighborhood by neighborhood, block by block, business by business, focusing – and I want you to hear me on this – focusing on our industrial block, focusing on our commercial area and focusing on our residential areas as well. Three solid revenue opportunities that we need to be concerned about.
For the record, Lary showed his tax returns from 2013-2015, showing that he made an average of $160,000 per year, emphasizing that he's not trying to win mayor for the money, which is $25,000 annually.
Calling himself "Superman," and daring any of his contemporaries to try to "outwork" him on the campaign stump, Lary welAnd that's the same type of contagious energy we will bring to the office of the mayor. I have led those leaders to this place … our vision is creation of jobs and economic development so that we can "live, work play" and "worship, shop, educate" in the Stonecrest aea. You will be proud to call me mayor as I represent you worldwide. Will be dedicated to the community," he said.