Negative campaign mailer targets Stonecrest candidate Charles Hill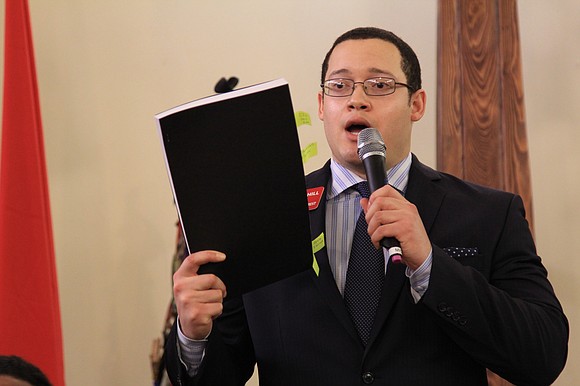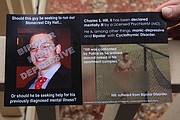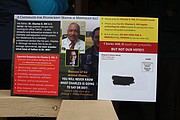 STONECREST — Stonecrest mayoral candidate Charles Hill II is the subject of a negative campaign mailer that started arriving in the mailboxes of Stonecrest voters today.
The glossy mailer, from a group calling itself "Blueprint to Restore DeKalb," says Hill is mentally ill and features a photo of Hill with the words "Bipolar Manic Depressive" written across his face. It also has a naked photo of the late Anthony Hill, a mentally ill Air Force veteran who was shot dead by DeKalb Police outside his Chamblee apartment in March 2015.
The return address listed on the mailer, 7365 Covington Highway, Lithonia, points to a wooded property adjacent to Overcomers Church. Searches on the DeKalb County Tax Commissioner's website and the U.S. Postal Service both indicated that it is an invalid address.
This is the second shadowy group to distribute campaign mailers in the Stonecrest elections. In the last two weeks, a Buckhead-based group called Reform DeKalb Education Coalition Inc. spent more than $20,000 creating and sending campaign mailers supporting mayoral candidate Jason Lary and council candidates Jimmy Clanton Jr., Plez Joyner, Eric Hubbard, George Turner, and Diane Adoma.
Stonecrest residents disturbed by the negative mailer said it is a new low in DeKalb politics.
"These people are crazy," said Kathy Hector, whose daughter Mary-Pat is a candidate for the District 4 council seat.
Hector said she was "taken aback" that someone would use the image of Anthony Hill to try to discredit another candidate.
"That family is grieving," she said, adding she is now worried about her daughter.
"I am praying for her," Hector said.
Residents outraged by mailer

Gladys Ali of Burlingham subdivision, said on Nextdoor.com that she was so disgusted with the mailer, she wants h=out of the new city.
"I wish they would redraw the lines and get my address of Stonecrest," she writes, "I don't trust these candidates to what is right."
Patricia Smith, president of the Hunters Communities Homeowners Association, who received the mailer Saturday afternoon, was clearly disturbed by it.
"This is ugly," she said. "This is terrible, just terrible. This is very bad."
Above Hill's photo, the mailer said "Should this guy be seeking to run our Stonecrest City Hall … Or should he be seeking help for his previously diagnosed mental illness?"
"Charles S. Hill, II has been declared mentally ill by a Licensed Psychiatrist (MD)," the mailer claims. "He is, among other things, manic-depressive and Bipolar with Cyclothymic Disorder."
On its flip side, the mailer chastised Hill's father, ophthalmologist Dr. Charles Hill, for pushing his son into running for office twice.
"We now wonder what kind of father is Dr. Hill?" it said.
Candidate Hill, who is completing graduate studies in theology at Yale University, called the mailer "dirty politics."
"They are clearly trying to make it seem that I am Anthony Hill," he said. "I am not Anthony Hill. I have never been treated for mental illness. The thought that someone would inject a dead veteran into the race is very disturbing and outside the realm of dirty politics."