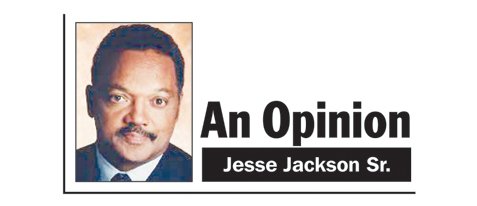 Stories this photo appears in:
While much of the country is focussed on the NCAA men's basketball "March Madness" tournament, the White House has unleashed a March Massacre, its "skinny budget" plan, for 2018. Budgets often seem impenetrable, packed with a blizzard of numbers too big to comprehend. But budgets are value statements. They tell us what we value and what we discount. President Donald Trump's budget reveals who counts and who does not.

The final days of the Obama presidency are upon us. His popularity is rising with the economy, and with the increasingly stark contrasts to his successor. It is worth being clear about the legacy that he leaves behind.

America's election system is a disgrace, as the 2016 presidential election once more demonstrates. This isn't sour grapes.

Donald Trump made a pitch for black votes, in his own inimitable fashion. Speaking in a virtually all-white suburb of Detroit, he suggested that African-American communities are "suffering from Democratic control."

The news last weekend that Julian Bond passed away at 75 saddened me deeply.
They teach our children, drive our buses, clean our streets and deliver our mail.

"I'm a football player, and I'm gay." With those words, Michael Sam, an All-American defensive end from the University of Missouri, demonstrated courage far beyond that demanded on the football field.