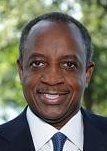 Michael Thurmond
Stories this photo appears in:

Muck, gunk, debris and all that stuff that have been caked up along DeKalb County curbs are getting the boot. Operation Clean Sweep, which kicked off March 11, began chiseling away the built-up debris that DeKalb CEO Michael Thurmond says blocks the flow of storm water into county drains and contributes to standing water on the roads leading to potholes and other issues.

DeKalb's water woes and its long-standing litter problems are among the fixes that will be made by the county's 2017 budget, approved Feb, 28 by the DeKalb Board of Commissioners.
DeKalb's water billing woes are so vast, county CEO Michael Thurmond is asking the Board of Commissioners to consider an amendment to his proposed $1.3 billion budget for 2017 when the board meets to adopt it on Tuesday morning.Thurmond would not say how big a change it will be but he told commissioners that water issue " is the most critical crisis facing our county today
Residential and commercial customers can save money on their sewer service through a new initiative adopted by DeKalb County government.
DeKalb CEO Michael Thurmond's proposed 2017 budget is the same $1.3 billion as the 2016 budget. There is no tax increase but Thurmond said fee or tax increases cannot be completely ruled out.
DeKalb County CEO-elect Michael Thurmond will take the oath of office on Jan. 13 in a Honorary Swearing-In Ceremony and Reception at the Manuel Maloof Auditorium. The 4 to 6:30 p.m. event is part of four days of events that include receptions, an ecumenical prayer breakfast, an inaugural gala, and an Atonement, Healing and Restoration Service.
District Attorney Robert James has set a new DeKalb record for the most contributions ever raised for a DA race.
Former DeKalb School Superintendent Michael Thurmond is expected to announce this week that he will seek the office of DeKalb CEO.